Sri Lanka's leading plantations company, Hayleys Plantations, supported by Japan Sri Lanka Technical and Cultural Association (JASTECA), hosted an exclusive tour to Pedro Estate in Nuwara Eliya, part of Kelani Valley Plantations PLC, for the Ambassador of Japan to Sri Lanka, His Excellency Hideaki Mizukoshi, Madam Mizukoshi and Second Secretary – Political/Economic & Development Cooperation/Protocol Section, Kaori Imai.
"It has been a pleasure to witness how Sri Lanka's world renowned tea is manufactured. We were privileged to visit the beautiful tea fields and experience the new innovations in sustainability and HR pioneered by Hayleys Plantations. Employees are at the heart of any enterprise and this was clearly evident during the discussions I had with some of the employees. I wish the company all the best in their future endeavors and applaud the unique processes and systems they have put in place with the support of JASTECA," Ambassador of Japan to Sri Lanka H.E. Hideaki Mizukoshi stated.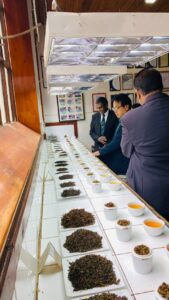 During the tour, the company's management team, led by Hayleys Plantations Managing Director, Dr. Roshan Rajadurai, and joined by Kelani Valley Plantations PLC Director/ CEO, Anura Weerakoon and Head/ General Manager HR & Corporate Sustainability, Anuruddha Gamage, who is also the Vise President of JASTECA, showcased the positive impacts of the company's innovative, modernized approach to sustainable plantations management – from field to factory.
"The Pedro Estate and Kelani Valley Plantations teams are deeply honoured by His Excellency's visit to our estates. During the tour, we had the privilege of demonstrating our unparalleled commitment to producing the highest quality signature Ceylon Tea, all while maintaining the highest global standards in our industry on environmental protection, and leading the way towards sustainable livelihoods, and a dignified quality of life for our employees," Hayleys Plantations Managing Director, Dr. Roshan Rajadurai said.
The Ambassador's tour commenced with a brief visit to tea plantations on Pedro Estate, where Hayleys Plantations has been using electronic weighing scales linked to personalized NFC cards which accurately record each harvesters produce.