Appointed a member of Hayleys Group Management Committee and drives Group ESG strategy and targets

Views sustainable business practices as a critical prerequisite in driving long-term shareholder value
Group Chief Financial Officer and Head of ESG of the Hayleys Group, Milinda Hewagama was recently appointed to the Board of the United Nations Global Compact Network Sri Lanka.
A dynamic professional, Hewagama brings over 17 years of diverse experience in Financial Management, Reporting, Budgeting and Financial Planning & Analysis. Beginning his career at Hayleys in 2010, Hewagama enjoyed a rapid ascent within the Group, rising from Executive to Group CFO within 13 years.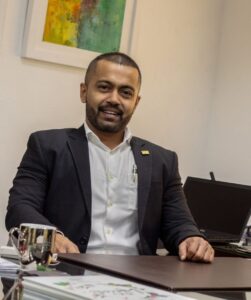 In his unique role, which combines both financial and ESG performance, he also drives the Group's ESG Roadmap – the Hayleys Lifecode. This roadmap seeks to integrate environmental, social, and governance best practices across all aspects of the Group's operations.
"For generations the Hayleys Group has demonstrated that environmentally and socially conscious business models yield strong financial returns. With the Hayleys Lifecode, we sought to prove that ESG standards and targets could be managed as meticulously and rigorously as any financial metric on our balance sheet. 
"A commitment to continuous learning and refinement is the only way to drive lasting progress. I am honoured to serve on the Board of Network Sri Lanka. I am eager to learn from our fellow members and to share the remarkable experiences in our ongoing efforts to embed ESG thinking and best practices across the Hayleys Group," Hewagama said.
His journey to Group CFO is marked by determination, hard work, and a commitment to excellence. He pursued his Bachelor of Business Administration at the University of Colombo, subsequently obtaining an MBA from the same institution in 2015. He is also a Member of the Institute of Chartered Accountants of Sri Lanka.
Commenting on the ever-evolving role of a CFO, he states: "Today's operating landscape demands CFOs to be more agile. Whether it's financial or ESG audits, data-driven approaches to decision making and automation play an increasing role. Digitalisation of financial and non-financial reporting has sharpened our decision-making, while we continue to set up real-time data dashboards across all key metrics."
Good governance, according to Hewagama, is vital for ethical business management, risk mitigation and steering resources towards sustainable investments. "At Hayleys, we've fortified our oversight on ESG matters with the establishment of an ESG Steering Committee that includes Director and GMC representation.
"To embrace truly circular, sustainable business models, companies need to be introspective and act decisively. That's the challenge each Hayleys Group Sector is embracing, with the support of our Hayleys Lifecode targets."
He also emphasises that in the struggle for driving macro-targets, companies should never lose sight of their values in the day-to-day. "Sustainability has to start from within. Treating everyone in the organisation and across hierarchy with respect is vital. 
"In tough times, many face equally tough choices. Leading with empathy and facilitating meaningful dialogue becomes ever more crucial. Navigating the economic downturn is challenging, especially considering its impact on our employees. Our priority is ensuring their financial security and well-being, which we have done by resolving some of their most urgent needs including employee commuting, food security, welfare and both physical and mental wellbeing.
"From our experience, it is clear that embedding ESG into strategy supports the creation of more resilient businesses and drives sustainable value chains and innovations sought after by global buyers. We look forward to working with Network Sri Lanka towards these vital objectives," Hewagama said.