Leading textile manufacturer and member of Hayleys Group, Hayleys Fabric PLC achieved yet another key milestone in its sustainability journey when it was honoured with the Best SDG Impact Award at the esteemed ESG World Summit and Growth, Resilience, Innovation and Talent (GRIT) Awards held in Thailand recently.
Organised by Corpstage, a premier sustainability consultancy in the region, and the ESG Research Foundation, the Awards aim to advance responsible capitalism and green initiatives while recognising outstanding companies making strides towards a sustainable world through impactful environmental, social and governance (ESG) practices.
"Receiving the Best SDG Impact Award is a testament to our team's drive and commitment to adopt globally accepted best practices in sustainability. This recognition also reaffirms our strong alignment with the United Nations Sustainable Development Goals (UNSDGs), as we are fully committed to 14 of the 17 goals, spanning all three key areas of ESG.
"In a world where climate change looms as a significant threat, just meeting expectations is not nearly enough any longer; we must rise above. At Hayleys Fabric, we always strive to drive ESG to our fullest capacity – we recently achieved 75% renewable energy across all operations, far surpassing the standards expected or achieved by most fabric companies while significantly reducing our greenhouse gas emissions. We are proud to showcase our climate achievements to the world and hope this can help further the agenda for sustainable growth in the country," Hayleys Fabric Managing Director Rohan Goonetilleke said.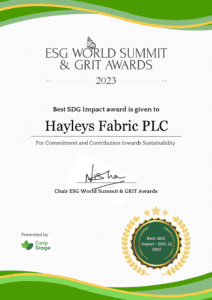 The stringent application process required participants to showcase their ESG execution plans, how they are aligned to the United Nations 2030 Agenda and to demonstrate their commitment to fostering sustainability across all operations.
Hayleys Fabric's  success in clinching the Best SDG Impact Award stems from its unwavering adherence to its comprehensive ESG framework.  The submission spotlighted a range of achievements, including a steadfast commitment to the Science-Based Targets initiative (SBTi) and obtaining ISO 50001 certification.
The manufacturer underscored its dedication to the CEO Water Mandate of the United Nations Global Compact (UNGC) in water conservation, outlining specific initiatives across six focus areas. Furthermore, Hayleys Fabric PLC demonstrated its rigorous commitment to water and chemical management by participating in the Zero Discharge of Hazardous Chemicals (ZDHC) initiative. This industry participation accentuated its stringent screening processes and led to development of robust supplier relationships through awareness forums and comprehensive training programmes.
The company's commitment to biodiversity conservation was exemplified by its active involvement in initiatives such as Diyathuru Park and collaborative projects with the CEA and the University of Peradeniya. These initiatives, including preserving the Lagenandra Kalugalaensis, a critically endangered plant species and restoring environmentally protected areas, underline Hayleys Fabric PLC's holistic approach to sustainability.
On the social front, Hayleys Fabric PLC demonstrated its commitment to excellence in customer service, timely deliveries, and consistency in meeting the stringent standards of Tier 1 international fashion brands. Furthermore, the company regularly engages in impactful projects such as book donations, blood donation drives.
Hayleys Fabric PLC remains dedicated to aligning its business practices with responsible governance and is guided by the Hayleys Lifecode roadmap. The company adhered to GRI annual report standards and initiated SASB reporting this year. The manufacturer's comprehensive environmental management systems, including ISO 14001 and HIGG FEM EMS, have further strengthened the company's governance and operating structures, increasing risk resilience and promoting stakeholder confidence.
Notably, the exporter's dedication to sustainable innovation was evident through groundbreaking projects like "Warna" and "Midnight," as well as its collaborative endeavours with suppliers for more responsible chemical and yarn sourcing.
Hayleys Fabric PLC is a pioneer in textiles manufacturing in Sri Lanka, capable of delivering end-to-end solutions from design to manufacture, and was the first apparel sector company to be listed on the Colombo Stock Exchange in 2003. Maintaining a monthly production in the Group of 5.5 million meters of fabric, the company is a leading partner to globally renowned fashion, apparel and accessories brands.