Green Experience Centers to immerse visitors in eco-friendly solutions and raises awareness about solar energy potential.
Driving affordable and accessible solar energy options to empower communities
Leading adoption of solar power within commercial and industrial sectors to help businesses reduce costs and achieve sustainability goals.
Solar power has emerged as the leading solution in pursuing a sustainable future. Hayleys Fentons, the number one solar EPC company in Sri Lanka, and MEP contractor, is at the forefront of this transformation, setting the stage for a greener and more sustainable future.
With a steadfast commitment to growth, accessibility, and empowering communities, Hayleys Solar, the renewable energy arm of Hayleys Fentons, is revolutionizing the renewable energy landscape in the country. It's the newest venture – establishing Green Experience Centers island-wide over the next years.
Hayleys Fentons aims to ensure the accessibility and affordability of solar power across all sectors of society, championing sustainable development as a testament to their unwavering dedication towards forging a cleaner and more sustainable future.
Expanding with Green Experience Centers 
Hayleys Fentons is taking a bold step forward with its inspiring plan to launch Green Experience Centers. These experience centers are innovative hubs where visitors can explore the world of solar technology and engage with cutting-edge value engineering solutions.
The Experience Center offers a comprehensive range of world-class solutions, from solar power systems to cutting-edge ICT Solutions, mechanical, electrical, and plumbing solutions, CCTV systems, uninterrupted power supply (UPS), Lighting solutions, Facility management services, and more. It offers an immersive experience, meant to inspire people to embrace clean energy.
The inaugural center, situated within the Katunayake Investment Promotion Zone, operates solely on solar power and an off-grid system powered by a lithium battery system, making it Sri Lanka's first green energy-powered experience center.
Hayleys Fentons' was further strengthened with their second experience centre, opened at 109, Anagarika Dharmapala Mawatha, Matara very recently, strengthening the company's plan to bring solar solutions closer to its customers.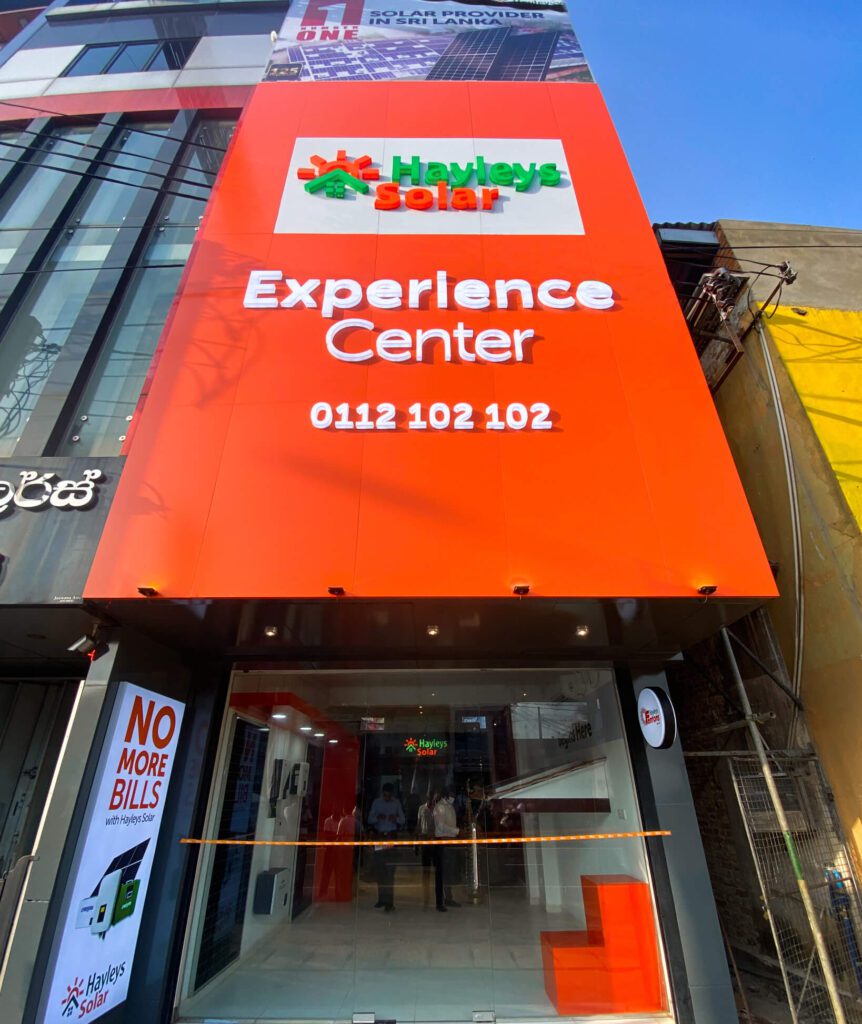 Making solar power affordable
Hayleys Fentons' commitment to sustainability is deeply rooted in its core values. The company understands that one of the major obstacles to the widespread adoption of solar energy has been its affordability. To address this issue, Hayleys Solar introduces affordable yet quality solar solutions to the market.
By making solar energy available to a wider audience, the company expands the market size and ensures that affordable energy is within reach.
Hasith Prematillake, the Managing Director of Hayleys Fentons, emphasizes that their vision goes beyond profit. "The goal is to make solar power accessible and affordable across all sectors of the country, enabling communities to become energy self-sufficient".
Leading the Solar Energy Market
By providing innovative and cutting-edge solar energy solutions, Hayleys Solar has established itself as a reliable partner in the pursuit of a sustainable future.
With its highly skilled team of engineers, the company leads the transformative efforts of both commercial and industrial sectors in adopting solar power solutions. Hayleys Solar prioritizes maintenance efficiency, energy and resource optimization, and CO2 reduction in its solutions.
Roshane Perera, Director, and CEO of Hayleys Solar, states that "Hayleys Solar's experience and expertise in the industry allowed the company to become the market leader. Today, Hayleys Solar has installed over 125 MW of solar systems, accounting for the largest collective solar rooftop capacity in Sri Lanka." Cost benefits and various sustainability initiatives have prompted many companies to embrace solar energy, he said.
Empowering Communities
Hayleys Solar recognizes that empowering communities is crucial for sustainable development. By making solar energy accessible and affordable, the company reduces dependence on traditional energy sources and creates opportunities for communities to thrive.
Rising electricity tariffs in Sri Lanka have placed a burden on households, making solar energy an attractive alternative. Investing in a solar system ensures fixed, levelized costs of solar electricity generation, allowing for stable production cost calculations for the next two decades, regardless of inflation or utility tariff revisions.
The company is optimistic about the future and plans to continue its growth trajectory while maintaining its commitment to sustainability.
"We are confident that with our expertise and experience, we can continue to lead the way in the renewable energy industry in Sri Lanka," Perera says. "We will continue to innovate and provide environmentally friendly solutions to our customers while contributing to a sustainable future for all."
As solar energy becomes an increasingly vital solution globally and in Sri Lanka, Hayleys Solar powered by Hayleys Fentons, is at the forefront, guiding Sri Lanka toward a brighter, more sustainable future, ensuring that the country's solar energy sector is efficient, reliable, and accessible to all by bringing solar solutions closer to customers.