Hayleys Group subsidiary and pioneering textile manufacturer in Sri Lanka, Hayleys Fabric PLC bagged the Bronze Award for the Best Writing/Script for its Annual Report for 2019/20 'Progressive by Nature' at the world's largest competition honouring excellence in annual reports, the International ARC Awards.
The globally recognised awards provide a platform to demonstrate the highest standards in the annual reports industry and is open to corporations, small companies, government agencies, non-profit organisations and associations, and agencies and individuals in the industry.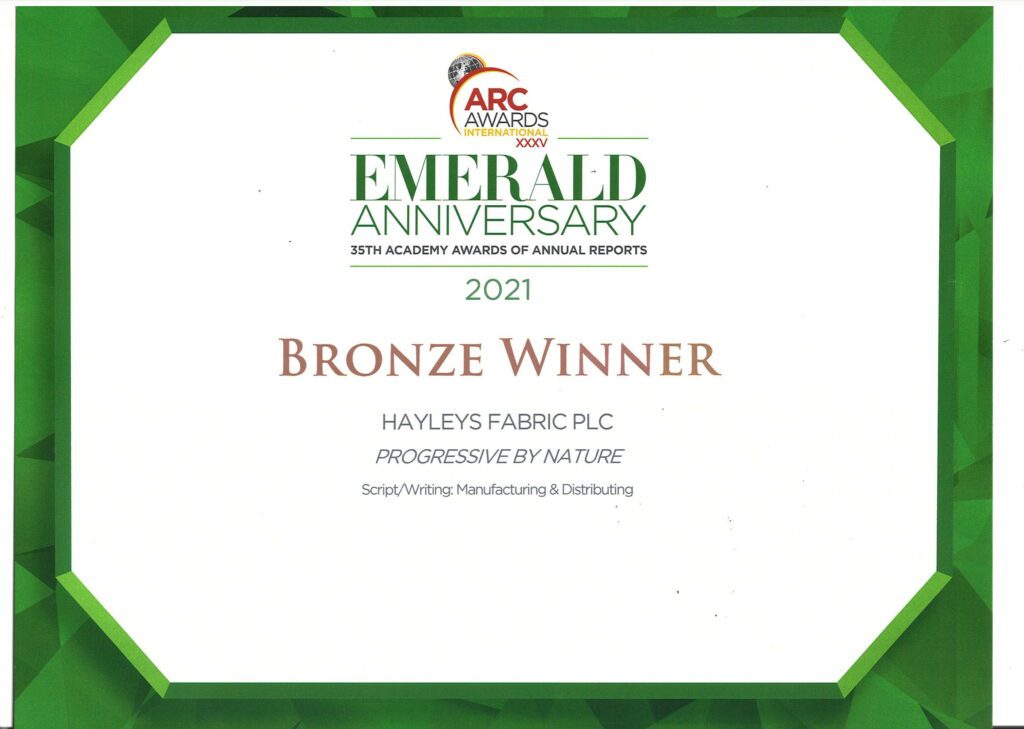 "Our journey in sustainability commenced as a compliance initiative and has now evolved into an integrated sustainability strategy and commitment to minimise the negative impacts on the environment. Therefore, the ability to transparently report on the ESG (environmental, social and corporate governance) within our organisation is an essential prerequisite to showcasing our commitment and building engagement around these vital initiatives. Therefore, we are honoured to have been recognised for our excellence from among 1,800 global entries and have no doubt this will inspire each team to continue meeting our sustainability commitments," Hayleys Fabric PLC Managing Director/CEO, Rohan Goonetilleke said.
The ARC Awards are unique in that each annual report is judged against itself, based on its success in communicating its story. Judging is not based on corporate profitability nor production but the values of creativity, clarity, effectiveness and excellence. Some of the elements considered in the judging process include the cover design, interior design, clarity of written text, presentation of corporate information, expression of financial data and how well the spirit of the organisation is communicated.
Conducted as 'blind' judging (name of the nominating agency is withheld), each entry is evaluated three separate times during the preliminary round by independent panels of judges representing leaders in investor relations, writing, design and photography. The final judging is made by presidents, CEOs and other senior executives of corporations, agencies and design firms.
Hayleys Fabric PLC is a pioneer in textiles manufacturing in Sri Lanka capable of delivering end-to-end solutions from design to manufacture and was the first apparel sector company to be listed on the Colombo Stock Exchange in 2003. Maintaining a production capacity of 3 million metres of fabric per month, the company stands as a leading partner to globally renowned fashion, apparel and accessories brands such as NIKE, Victoria Secret, Decathlon.